Best Snack Ever: Brazilian Cheese Bread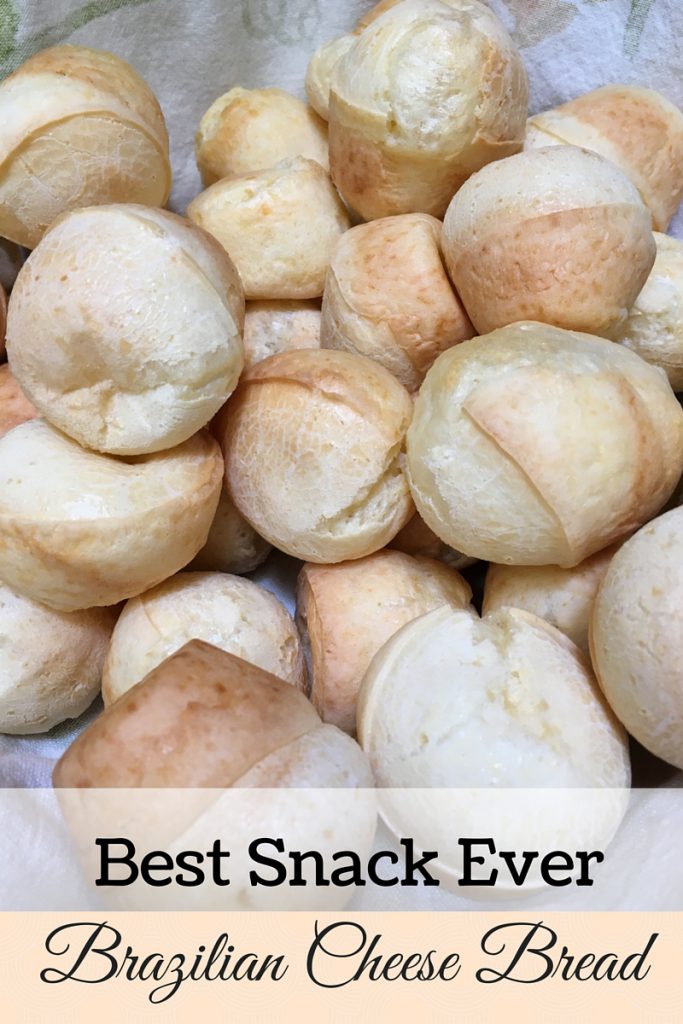 Who doesn't love a good snack? And one that's easy to make? With Brazilian Cheese Bread, you've got it all!
My sister introduced me to these luscious puffs of deliciousness, and they've become a favorite among family members and, more importantly, my kid's playgroup. The kids always request this snack, and they gobble them up in a flash.
What's So Great About Brazilian Cheese Bread?
I'm glad you asked! The best part about Brazilian Cheese Bread – or cheesy bread as the kids call it – is that it's actually healthy and easy to make. All the ingredients get thrown together in the blender, whirred around until you have a smooth batter, then poured into mini muffin tins. That means you only have one appliance to clean – awesome!
These little bites are also gluten free since they use tapioca flour rather than regular wheat-based flour. This makes them light and fluffy as well. You pick the cheese depending on what flavor you like. The kids love cheddar, so that's what I usually stick to, but I've made them with gruyere, mozzarella & parmesan, and a Mexican cheese blend. They're all fantastic.
The bread comes out a cute little puff that's a little crispy on the outside with a rich, chewy center. The texture is both light and satisfying, cheesy and bread-y (is that a word? It is now!). They're the perfect snack food. Just be careful, because it's super easy to eat one after another after another until they're gone. Oh, what the heck, go ahead – there's nothing bad in them, so eat to your heart's content!
Okay, What's In It?
Cheese, olive oil, milk, egg, a little salt and tapioca flour. If you don't have tapioca flour – also known as tapioca starch – in your pantry, no worries. It's easy to find. Most grocery stores will have it in the same aisle with the regular flour. Just look for it with the other packages of "specialty" items like oat bran, almond flour, rice flour and the like. Bob's Red Mill is a popular brand that most grocery chains carry now.
If you happen to have an Asian market nearby, go there for your tapioca flour. I usually buy several packages on my runs to the Chinese grocery store since I can score each package for around 89 cents.
If you're dairy-free, I'm afraid I haven't tried any substitutions with this recipe. This is one I follow to the letter with no alterations. Not because I don't like to experiment, but because this recipe works. It's just right. Every time. If you do try any substitutes, let me know. I'd love to hear how they work!
Are You Ready to Try These?
Okay, I won't keep you waiting any longer. Here's the recipe!
[amd-zlrecipe-recipe:4]
Let me know if you try this recipe. I'd love to know what you think!