For the Love of … Lettuce!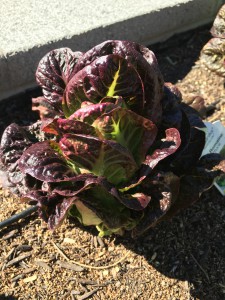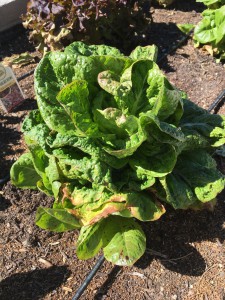 Crazy, but I never thought I'd say that. I've always enjoyed a good salad, but I've never been overly excited by one. But now? Those beautiful emerald & plum colored leaves, crispy, billowy, tender, and growing in my garden. What?!?
Me, the woman who can kill even the hardiest plant with just the slightest thought of neglect has a garden! And it's growing! Okay, it's not just my garden. We started it as a family project, but it has proven to be a highly satisfying activity for me, my husband, and a couple of the kids have shown mild interest, too.
As city dwellers all our lives, we don't know much about growing food, but we're learning. I've taken advantage of our public library's Master Gardener presentations, asked tons of questions at our local nursery, and, of course, enlisted the help of our yard maintenance guys to get the whole thing started. After all, they know about green things. Honestly, we couldn't have done it without them. From leveling the garden plot to building raised beds and installing a simple irrigation system for us, and telling us where to go for our starter plants, they have been more than helpful.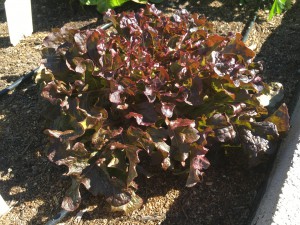 Now we have all manner of vegetables growing and thriving in our own little backyard plot. Broccoli, peas, tiny carrots and radishes, several types of herbs, and lettuce! All. Kinds. of Lettuce. It's beyond awesome to think, "Hmmm, a salad would be nice with dinner tonight," then walk out my back door and pick the greens fresh from the garden! And who knew that lettuces are so resilient to temperature changes and crazy weather from hail storms to abnormally warm days. The plants just keep on growing.
Gardening wisdom says that you should pick lettuce early in the morning to take advantage of the sugars that gather in the leaves over night, so we've been trying to do do that. But honestly, sometimes I don't know what's for dinner until 20 minutes before dinner, so I've gone out and picked the early evening lettuce and haven't noticed any marked increase in bitterness or anything. I think the freshness factor might counteract that. Or maybe I'm just in love.
Tomorrow, I may need to learn how to harvest broccoli, but today, it's all about the lettuce!