Friends, Food and Favorite Things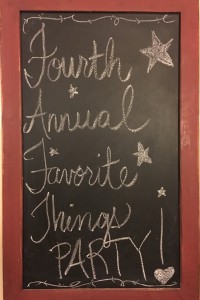 What's better than great food and quality time with friends? A Favorite Things Party, of course!
What's a Favorite Things Party? Only the most awesome, fun and fabulous time ever. My friends and I have been doing this every year for the past 4 years, and it's the one party that everyone tries their best NOT to miss.
I don't think I would have survived the past 7 years without my mommy group. We affectionately call ourselves the Mamafia because we can be a fierce force to be reckoned with whenever one of us needs support. We've been friends since our kids were babies, and as the kids have grown, so has our friendship.
Our kids are now in different schools and have different friends, but we still try to get together whenever we can. We have Mom's Night Out as often as our schedules will allow – once a month if we're lucky – and we have our Favorite Things Party.
We tried it one year in place of a holiday gift exchange and now it's a yearly tradition. This year we waited until February because our holiday schedules were all so crazy, but no matter what time of year it is, it's a blast.
5 Things for $5
If you've never heard of a Favorite Things Party, let me explain how it works. Instead of bringing one item for a gift exchange, you pick one thing that is actually one of your favorite things – something you can't live without, something you probably use every day. So you pick one thing that costs $5 or less and buy 5 of them. Of course, you can set the dollar limit anywhere you're comfortable, but we like to keep it as simple as possible. You'd be surprised at how many inexpensive things are indispensable in our lives!
So everyone arrives at the party with their 5 things under $5, and each person puts their name in the draw basket 5 times. Meanwhile, everyone also brings a favorite dish to share, and we eat fabulous food until we're ready to pop.
Time for the Presents
When everyone's fed and happy, it's time for the gift exchange! Pull out the basket with all the names in it and pick someone to go first. That person gets to explain why their item is one of their favorite things, and they should feel free to be as descriptive or mysterious as they like. Then they draw 5 names out of the basket, and those 5 people get that person's gift. It's so much fun to hear about why something is a favorite, and it helps us all get to know each other a little better. Everyone goes home with 5 new things and some wonderful stories.
The favorite things are fabulous, too! Things that we each might take for granted in our daily lives start to mean more once we share them. And these are things that are truly useful and meaningful rather than the knick-knacks and other random items you might get at a typical group gift exchange or white elephant party.
We've had favorite magazines, cool lipsticks, lotions & body butters, all kinds of delicious food and snacks, even a can of WD-40 because it is truly something one of us cannot live without! These ordinary items take on special meaning because they're special to one of our friends. And we can take them home, use them, think of our friends every day, and perhaps that item will also become one of our favorite things.
A Fun Tradition
I think what make the Favorite Things Party so great is that it's so simple. And it never gets old or stale because we all discover new favorite things every year. It's so much fun that my family traded our Christmas adult gift exchange for Favorite Things, and everyone loved it. Now we don't go overboard with gifts, and we have a fun new tradition that the whole family can enjoy as much as my friends and I do.
If you're looking for something fun to do with friends or family, I hope you'll try a Favorite Things Party, too!