Glorious Pork Roast and Gorgeous Roasted Veggies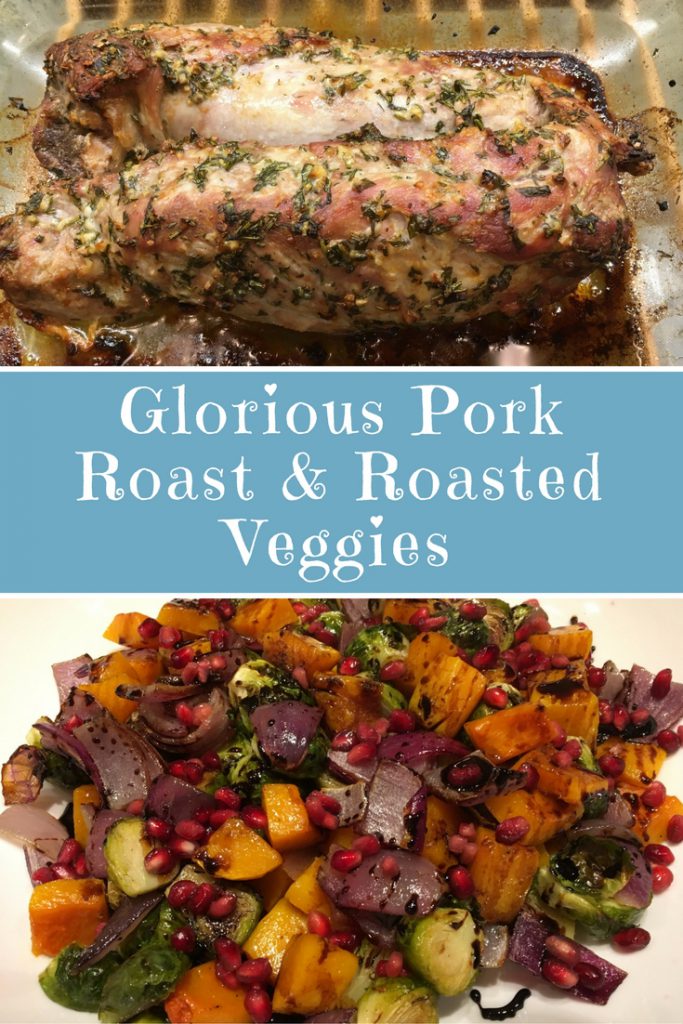 Today – Thanksgiving eve – I'm all about preparing to roast the turkey. But I need to share a couple of other fabulous recipes with you, especially if you're looking for a turkey alternative or an amazing side dish to add to your repertoire.
A good pork roast can warm up any dinner menu, and this one is as fabulous as it is easy. Pork roast can end up dry in the oven, but this one comes out tender and moist and full of flavor. I think the key is the luscious herb rub and starting on really high heat before lowering it for the bulk of the cooking.
The original recipe is easy, and it turns out great every time. This week, the pork loin roast was on sale, so I used this larger cut of meat rather than the tenderloin. (The tenderloin is the skinnier cut of meat that the recipe calls for.) Although most experts say you can't cook these different cuts of meat the same, I've found that I can use this recipe successfully with both types of pork roast. I just adjust the cooking time a little if I have a smaller roast.
Since our garden has been doing well, I took a quick trip out to the backyard for some fresh herbs. Of course, a trip to the grocery store works equally well. Or you can use dried herbs. If you use dried, you just use less.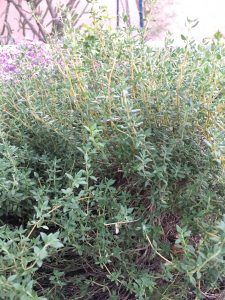 Mix up the rub for the roast in a small bowl.
Then spoon it over your meat and rub it all over.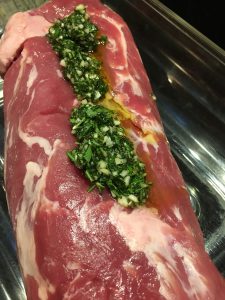 I had a 3 pound roast and no roasting rack, so I reduced the cooking time a bit. Stick it in the oven at 475 degrees for 20 minutes. Then lower the temp to 425 and roast for 40-45 minutes more. When the internal temperature reaches 155-160 degrees, take the roast out of the oven. Then allow it to sit for 15-20 minutes before carving. After it rests, slice it and serve. The 3 pound roast served 4 of us with plenty of leftovers. The meat retains its flavor beautifully, so the leftovers taste great. They're also fantastic on a sandwich. We made Cuban sandwiches with the leftovers, a little cheese and pickles. So delicious!
Roast Some Veggies to Complete the Meal
The meat is so flavorful, and a big platter of gorgeous roasted vegetables makes the perfect accompaniment. The Pioneer Woman (my foodie crush) offers this amazing recipe with creamy butternut squash, red onions and Brussels sprouts. She makes it as a beautiful side dish for her Thanksgiving feast, but it made a fabulous match for my pork roast. It really brightens up the table, so it would be perfect for a dinner party or special occasion or anytime. Did I mention that it's absolutely delicious?
I had some butternuts that our son grew in the garden, so I used those, but you could just as easily use a package of precut squash from the store. I cut them up and threw them on a pan with the Brussels sprouts and onion. Then I did a little sprinkling and drizzling and stuck them in the oven with the pork roast for the last 20 minutes. They cook at the same temperature as the pork, so it works out perfectly.
When they come out of the oven, put them on a platter, drizzle with some balsamic glaze and pomegranate seeds and you have the prettiest dish ever. The glaze and the pomegranate truly do make these veggies magical, and they compliment the pork perfectly, too. The recipe was easy, even if it required some prep work, but the end result was worth it.
Now, don't you want to eat? Go. Make these. You'll love them!