Can a chocolate cake tell a story? Can any recipe? I think food can tell a lot about someone. We whisk together good times, lovingly stir tradition into our favorite dishes and mix up quick and delicious meals on busy weeknights. Food speaks to me and tells me things about myself and my family and friends that help us all grow together – hopefully not too much around the middle, but more in the sense of connection and shared experiences.
A Little Story
My friend, Sara, shared this recipe on Facebook a while ago. We met years ago while we were training to be volunteer naturalists for the Tucson Audubon Society. A few of us from the class would get together to hike and enjoy the birds and wildlife around us. Those were good times!
But then life started to get busy. My job changed, I moved to the other side of town, eventually stopped volunteering, and I lost touch with my naturalist friends. Thankfully, I've found them again on Facebook! For all its faults, Facebook IS great for reconnecting with friends.
So Sara shared this recipe for a cake that her mom used to make. And although it was just a post about cake, it was clear that it was so much more. It was a post about memories and family and relationships and love. That simple post told a story and it meant something important to my friend.
Not Just a Chocolate Cake
Last week was super busy, and if you read my post about it, you know that we also had a guest visiting from out-of-town. I wanted to do something nice to welcome him, but it had to be ultra simple, so I found the recipe from Sara to see if this cake would fit the bill. I had all the ingredients in the panty and it didn't require anything more than the pan, so I made the cake.
It's super simple to make, and boy is it delicious! My son wanted to decorate, so we melted some chocolate chips, added a little half and half to thin it out to a nice consistency, then drizzled it over the top. Well, he got impatient with drizzling, so he did more of a slather. Then he sprinkled every color of sprinkles we had over the top, and the result was a beautifully messy chocolate cake that you could tell was made with love.
The cake, itself, has a rich chocolate flavor, but it's not too sweet. It's moist with the perfect texture that's not too dense but perfectly bouncy. Sara's mom used to call it "snack cake" and it does seem perfectly suited to snack on – not too fancy, not too heavy, but deliciously satisfying and easy enough for any day, no matter how busy.
More importantly, it's a piece of Sara's mom that she has graciously allowed me to share. In her words, "sharing that recipe is an awesome way for me to keep my mom's sweet and giving nature alive!" I didn't know Sara's mom, but I have to agree. This cake oozes love and generosity and simple, sweet goodness. And if Sara's mom was anything like Sara, I'm sure the cake is an accurate reflection of her.
Enough Storytelling, I Want Cake!
As I said, the recipe is super simple. All it takes is a 9″ x 9″ cake pan, but if you want to make it in a bundt pan, like I did, you'll want to double the recipe. Mix it up right in the pan, or mix it in a bowl and pour the batter in. Then pop it in the oven and enjoy! And to help you connect with Sara and her mom, here's the handwritten recipe – because nothing can make you feel closer to the cook than the handwritten notes that come with perfecting a recipe over time. (The printable version is also provided below.)
Is this a recipe you would enjoy? Let me know if you try it. I'd love to let Sara know that her mom's legacy lives on!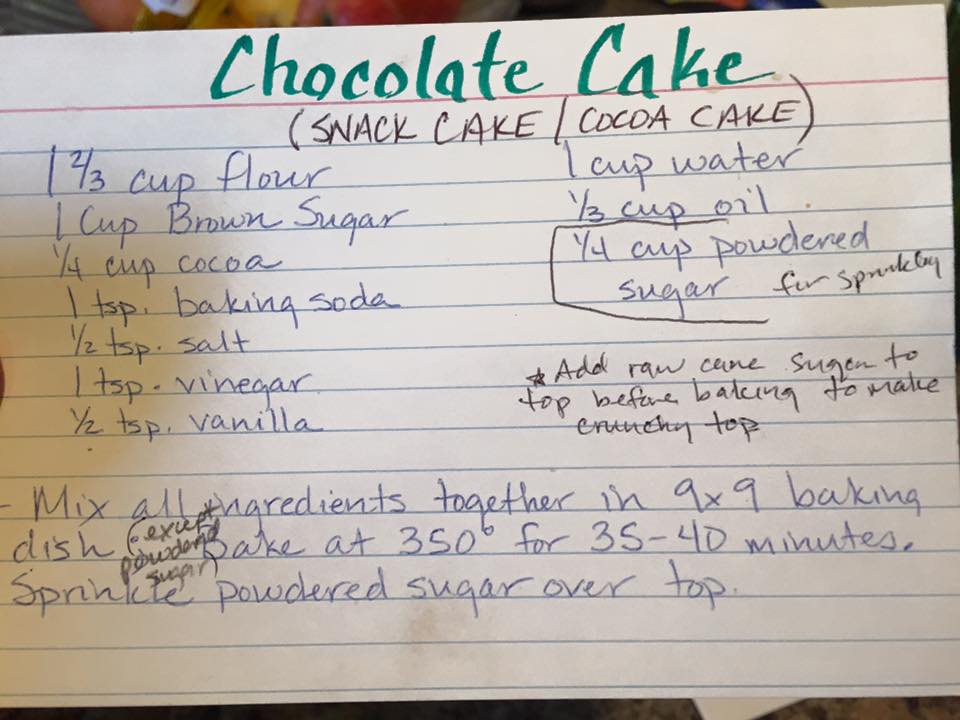 [amd-zlrecipe-recipe:3]
Read More