Pineapple Boats for a Beautiful Fruit Tray
Fancy fruit trays may not be one of life's priorities, but when you're entertaining, knowing how to make pineapple boats can give your party an extra special flair. A fruit tray brings color and vibrancy to a table and can be appropriate for breakfast, lunch, dinner or brunch. And if you can find a whole pineapple, you can make these beautiful boats that will be the centerpiece of your food display.
I first learned how to make these while I was the co-advisor to the Hawaii Club at the university where I worked. The Hawaiian students had a luau every year, and fresh pineapples were flown in from the islands. Since then, I've used this technique to make pretty pineapple boats on my fruit trays for family gatherings, and potlucks. This week, I made this tray for a school function, and everyone loved it. It looks more complicated than it is, so let me show you how to do it.
First, be sure your pineapple is ripe. Look for a body that is slightly golden, and take a whiff. If the fruit is fragrant and sweet, it's probably ready. Take it home and throw away the little card with instructions on how to cut a pineapple! Do this instead.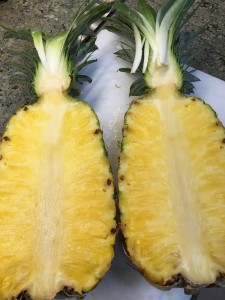 Leave the crown on the pineapple and cut it in half from top to bottom, including the crown. This is actually a little easier if you start in the middle and cut down through the bottom, then up through the top. When you get to the crown, be firm yet gentle while cutting it all the way through. You want to split it in half without pulling it off the top of the pineapple or damaging it too much.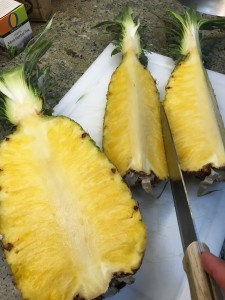 Then, cut those halves in half again. You now have four pineapple quarters.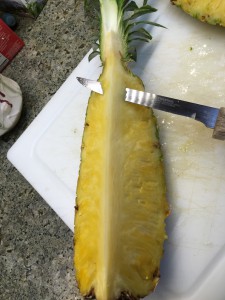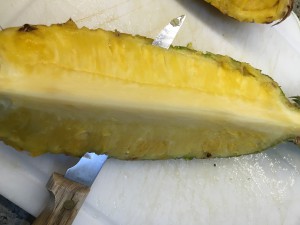 Next, slide a sharp knife under the core – that lighter section in the middle of the pineapple – and carefully cut down the core and around the sides and bottom, leaving the pineapple intact at the top and bottom. Be gentle, so you don't break the core at the corners.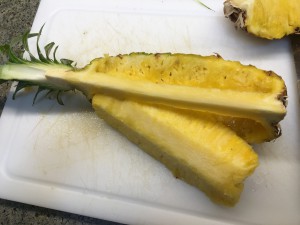 You should now have a pineapple boat with a bar (that's the core) across the top. And you'll have a big hunk of pineapple that you can slide out of the body of the boat.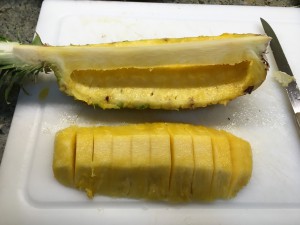 Slide it out and slice it up.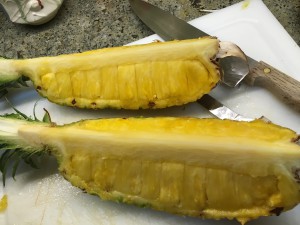 Then, slide it back in. If you're not going to serve right away, leave it like this. I'll show you how to store your pineapple boats it in a minute.
Now do the same thing with the other 3 quarters of your pineapple.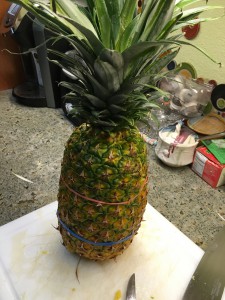 If you're preparing this ahead of time, you'll want to store it until it's time to serve. Simply put the pineapple back together and secure the pieces with a couple of rubber bands. Then stick it in a plastic bag and put it in the fridge. Be sure your bag doesn't have any holes or leaks or you'll have a sticky mess in the refrigerator!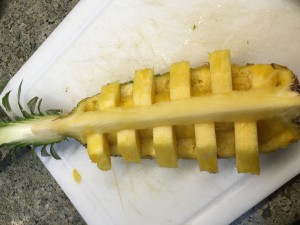 Once you're ready to serve your fruit, take each quarter of the pineapple and carefully slide the slices out about halfway, alternating direction each time. This will allow your guests to grab hold of a juicy piece of pineapple and slip it out of the pineapple boat. You can also stick toothpicks in each one to make serving colorful and easy.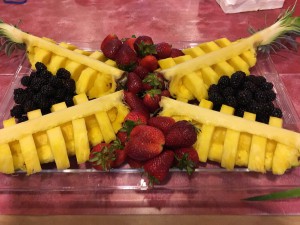 See how simple that was! Place the pineapple boats directly on the table as a tropical appetizer or add some other colorful and tasty fruit to a tray and you're done. Now you know how to make beautiful pineapple boats that will leave the impression that you are a fruit artist. Even the most accomplished hostesses will want to know your secret.
Will you try this at home? Let me know if you do or leave me a comment & tell me what you think of this idea!