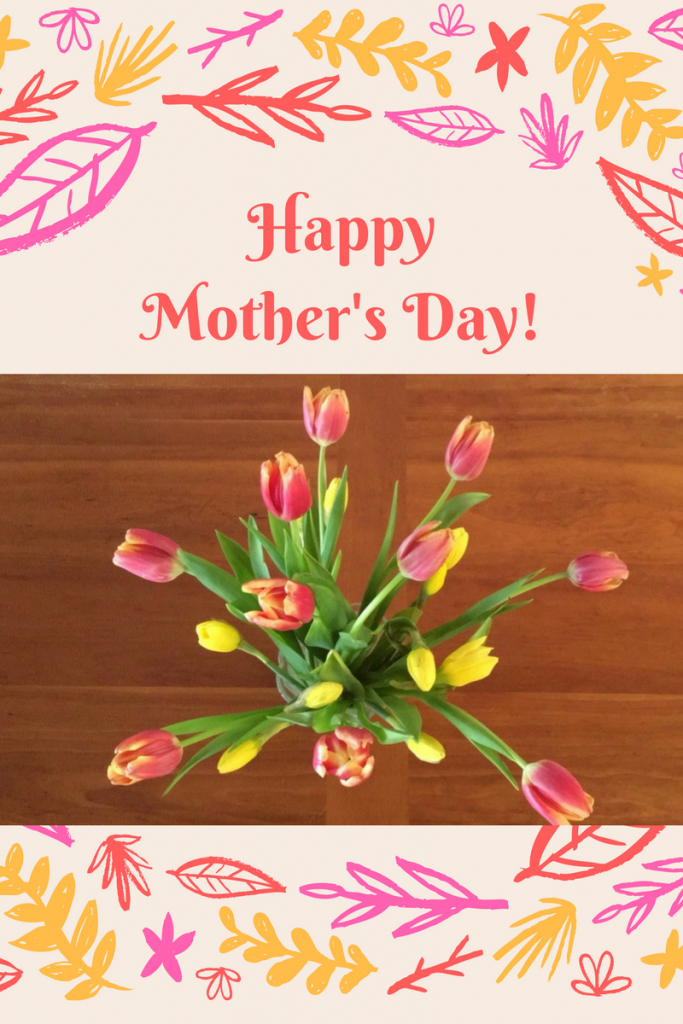 It's May, which means Mother's Day is around the corner. If you need a gift for your Mom or if you need to throw a few hints around because you ARE a mom, look no further. With just a few exceptions, these gift ideas come from my own experience with these items. I love them, I use them, and I'm always glad I have them. And even if Mother's Day wasn't coming, I would recommend them. Shoot, I would probably buy them for myself as a nice Mother's Day treat. So if you need an excuse to do a little shopping, go ahead – I won't tell!
Mother's Day Gift Guide – My Picks for Moms
If you want a super fantastic curated guide to awesome Mother's Day gifts, please don't miss the Cool Mom Picks Mother's Day Gift Guides. These always contain fabulous ideas for every kind of mom and every budget you can think of. They go way beyond the ordinary mass-produced cards, jewelry and retail items. I've found wonderful and unique gift ideas for moms, grandmas, mothers-to-be, and mothers-in-law. And many of the ideas they share would be appropriate and cherished by most women, whether they're a mom or not.
My Mother's Day gift list tends to lean toward the practical with ideas for the Home Chef, Book Lover, Outdoor Mama, and Movie Buff. Where I strayed from the "tried and true" is one item for the New Mom that caught my eye and looks so fabulous I had to include it even though I have no personal experience with it. So without further delay, on to the list!
(In the spirit of full disclosure: This post contains affiliate links. This means I may earn a commission – at no extra cost to you – if you purchase something using one of my links. This helps cover the expense of running the site while keeping the content 100% free. Note that I only recommend products I believe in. Your support is appreciated!)
For the Home Chef
If you know a mom who enjoys being in the kitchen, these picks might make her do a little happy dance. I love seeing what delicious concoctions I can create for my family, so these gift ideas definitely have been tried and tested and pushed to their limits in my own kitchen. I spend most of my time here in my own home, so it's no wonder that this category has the most gift ideas of all.
A Good Old Cast Iron Pan
I didn't know what my life was missing until I got one of these babies! Cast iron can go from the stovetop to the oven without a hitch. And if you ever watch those cooking shows where they talk about all the "little brown bits" on the bottom of the pan that have so much flavor, this is where you get them. Cast iron cooks like no other pans in my kitchen. If you have any doubt, check out these recipes for a scrumptious Strawberry Skillet Cake and a savory Spanish Omelette. Dessert and breakfast from the same pan? Can't beat that. And if you want to get all cute and don't mind a little more prep time in the kitchen, the Eggbert's Sunriser, in adorable individual size cast iron pans would make a fun and festive Mother's Day brunch.
Get the full size and mini pans here: (affiliate link)
,
Flippy Waffle Maker
Have you ever stayed at one of those hotels with the free breakfast buffets? If you have, you've seen the cool waffle makers they have. The ones you flip over to make your waffle. I don't know why these are so cool, but we have one, and the waffles turn out fluffy on the inside with a little bit of crispness on the outside. If you enjoy a good waffle, then a good waffle maker is a must. And this baby is good. Also, it doesn't take up much space, so storing it is easy.
Here's the one we have (affiliate), and we love it!

Versatile Stick Blender
Most moms try to eat healthy as much as possible, and that becomes much easier when you can include tasty soups and sauces in your mealtime repertoire. Adding cream can add calories and fat, but using a handy immersion blender can create the same creaminess without the heaviness. It's much easier than transferring hot soup to a blender or food processor, and it's also fun to use.
My sisters and I got a great deal on these several years ago, but you can get one here (affiliate), and it comes with a chopper attachment for all your chopping needs.
For a Basket of Kitchen Gadget Goodness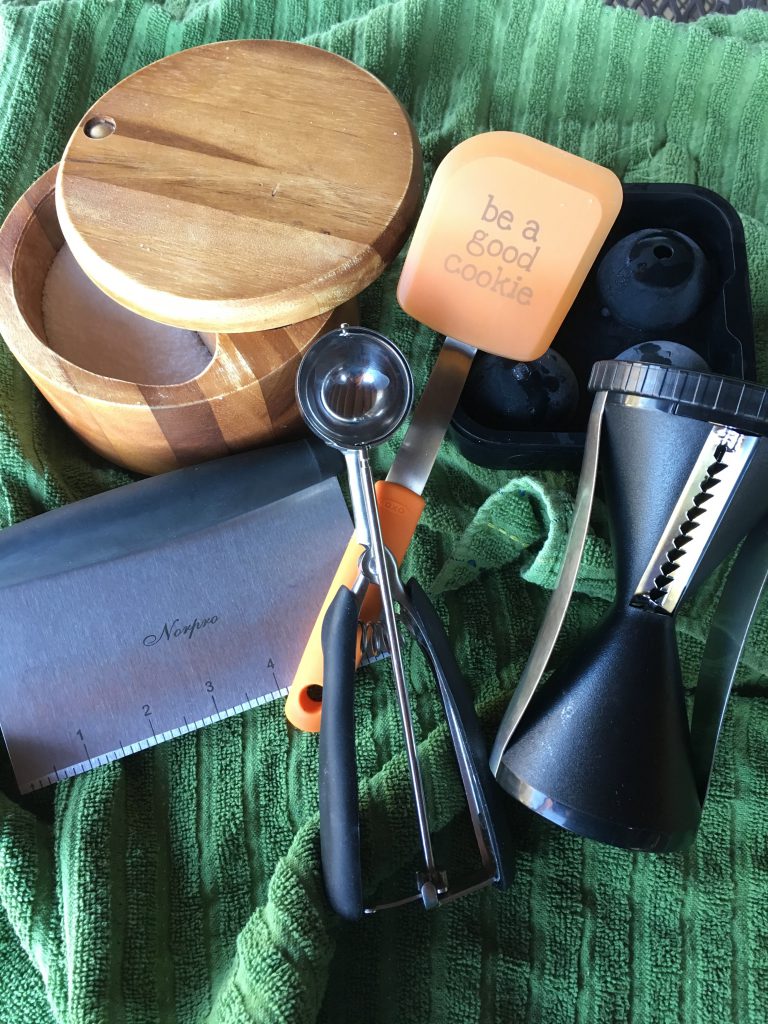 Looking around my kitchen, I see so many cool items that make cooking more fun and exciting. While they seem ordinary, they often get overlooked when stocking a kitchen. So Mother's Day seems like the perfect time to put together a basket of little things to make mealtime, snack time or anytime easier, healthier and more interesting. (Affiliate links at the end of this section.)
Baking Joy
For baking the most fabulous cookies, I can't live without my cookie scoop. It makes all your cookies beautifully shaped and all the same size. With all the bake sales and teacher gifts that happen in our lives, this little tool is a gem.
And once the cookies are baked, you need a high quality cookie spatula to get them off the pan without breaking. With its simple design, this spatula does the trick every time. I got mine while doing a bake sale to raise funds for Cookies for Kids Cancer, so mine is the special edition, but the one in the link is exactly the same, just without the cute color and text.
Weight Loss Wonder
I've lost 13 pounds since February, and part of the credit goes to dramatically cutting down on my carb consumption. But with a house full of noodle eaters, what's a girl to do? Enter the zoodler, or vegetable spiralizer. I can choose a healthy vegetable as a pasta substitute – my preference is zucchini – spin it through my zoodler, and voila, instant veggie noodles! I just use them in place of the pasta in whatever recipe I'm serving the rest of the family, and it's terrific.
If you want to get a little fancier or are serving the whole family, my friend Beth, from One Missing Ingredient, has a great recipe for Zucchini Noodles with Basil and Tomatoes. The one I bought has 4 blades for different size "noodles" and it comes with cleaning brush, a tool to change the blades, a vegetable peeler, paring knife and recipe book.
Save Your Knives
Being in the kitchen a lot means I appreciate a good, sharp knife. Good knives are a must and keeping them sharp and in top condition takes diligence. One thing that has helped save my knives from premature dulling is this little scraper/chopper thingy. Now that the kids have started doing more food preparation and cooking, I find myself constantly reminding them not to drag my good knives against the cutting board. But with this scraper tool, we can easily scoop up our chopped veggies off the board without worrying about our knives. I use it all the time, and now that I have one, I truly don't know what I ever did without it.
Pass the Salt
Who can eat meal after meal without proper seasoning? Not me. Our salt cellar gets constant use, and it looks pretty on the counter. Because it sits next to the stove, it's so easy to reach in for a small sprinkle of salt, and the wide opening is perfect for dipping in a measuring spoon for precise portion control or your fingers for just a pinch of goodness to make your recipes perfect. Find a cute one to match your kitchen decor, and you'll leave it on the counter all the time.
Just for Fun
Finally, my cousin Sylvia, introduced us to the joys of giant ice cubes. I know it sounds ridiculous and a bit frivolous, but she was right. Round or square, these make your drinks totally fun and whimsical, and if you make cocktails, they melt slower so they keep your drinks cooler longer and don't water them down as fast. Perfect for adult beverages or a big glass of lemonade for the kids, these will make Mom a drink hero!
, , , , , ,
For Moms Who Love to Read
As we approach summer, book loving moms will appreciate some wonderful stories for their bookshelves. A friend recommended the book The Last Camellia by Sarah Jio, and it was fabulous. Since then, I've been hooked on her books. The stories are absorbing with surprising elements, likable characters and rich locales. They would be perfect to take to the beach or the neighborhood pool. But they would be equally at home on any bedside table or waiting room book bag. They're quick reads with substance, and they're perfectly suited for women. So if your mom loves to read, any of these would make a great Mother's Day gift.
Here are the Sarah Jio titles I've read (affiliate). But don't limit yourself to these, she has tons more to choose from.
, , ,
For the Outdoor Mama
Mother's Day marks the beginning of the summer season. With that comes a myriad of opportunities to get outside. Whether it's swimming practice, a morning hike or a relaxing beach vacation, Mom should be comfortable in the great outdoors.
Stay Hydrated
Two items in my closet come to mind as must-haves for warm outdoor activities. First, my hydration pack. I bought this item before I ran my first 5K. I wanted something light and small, but I didn't want to pay a lot of money for the fancy running packs out there. So I went with this one, and I love it. The opening to the water bladder is big enough for ice. And the pocket for the water bladder is insulated, so my water stays cool, even in the hot Arizona sun. In addition, it's big enough to carry enough water and what I need for a day hike, and it's comfortable to carry.
Stay Cool
Pair the water pack with this "cool" multipurpose wrap and you'll have the ideal Mother's Day gift for the mom who spends time outdoors. The technology in this wrap amazes me! Just get it wet, yank the ends to snap a few times, and it provides a cooling effect. It also offers chemical-free UPF50 sun protection. I've worn this hiking, my son has used it, and it saved me on a 98 degree scorcher at the county fair. It lowers your body temperature and keeps you from overheating when shade or shelter are hard to find. You can wear it around your neck (my preference), or over your head or in a number of other ways. Whatever you find comfortable will work. And I think it's a win if you can help mom (or yourself) enjoy being outside.
(affiliate links)
,
Movies and TV Shows to Escape Into
Every mom has their own unique viewing tastes, so I won't try to cover all the bases. But these are 3 that I love from the past year.
Mom Magic
First, Fantastic Beasts and Where to Find Them. Being a huge Harry Potter fan, I wasn't sure if this movie would live up to the Harry Potter series. But it did. In a big way. It was so much fun to see the magical world of magical creatures come to life. And with J. K. Rowling behind the story concept and script, it delivered an imaginative, immersive and completely entertaining escape.
Supernatural Moms
Next, Ghostbusters (the female version). What could be more perfect for Mother's Day than a funny, feminist take on a classic movie? The female cast didn't try to re-create the characters from the original. Instead, they brought their own interpretation to the screen, and they were hilarious. I saw this with my girlfriends on a girls' weekend, and it provided more than a few recurring chuckles. There's nothing serious or heavy about this movie. It's pure fun for moms who could use a good laugh.
History and Drama to Love
Finally, no list of TV & Movies from me would be complete without Downton Abbey. I know I'm not the only one who felt a little deflated when the show ended. But thanks to the magic of DVD or Blu-ray or digital, we can all re-visit Lord Grantham, Lady Mary and the rest of our British TV family. Because it became personal. We cared about them, we ached for them, laughed with them, feared for them. They became part of our lives. If your mom is a Downton fan, let her re-live the series at her leisure. She'll love that she doesn't have to wait until Sunday night for the next episode.
(affiliate links to giftable blu-ray, DVD and/or digital downloads)
, , , ,
For Moms with Itty Bitty Ones
My two favorite things for new moms (or repeat moms with new babies) include a fabulous folding stroller and this fashionable (NOT tent-like) breastfeeding cover.
The nursing cover from Covered Goods puts all other nursing covers to shame. No, not really, but it seriously looks great, can be used in several different ways, and it works to actually cover you up. When you're not nursing, wear it as a scarf or use it as a stroller/car seat cover. It looks great in so many ways. If you want more info, see my post from last year on this product.
This folding stroller is the only item on my list with which I have no personal experience. But it's too fabulous to leave off. Here's the video I posted on my Facebook page a few days ago. It says it all. To get one for a special mom in your life who could use one, click the Amazon link (affiliate). Seriously, what mom wouldn't want one of these? And it won't completely break the bank.


For the Personal Touch
Personalized Mother's Day gifts always make the grade. Whether they're for mom or grandma, a handmade gift can never be wrong. I love the gifts my kids have made – my macaroni necklace; the handprint t-shirt with their names; the hand painted pottery vase, plate and owl figure; and every drawing they've ever done.
Handmade
For a handmade gift that doesn't have to be hard, try a mosaic stepping stone. I love the one my son made me, and it looks great at the entrance to our backyard garden. It comes in a kit, so it couldn't be easier. It makes me smile every time I see it, and I'm sure any mom would love to unwrap one on Mother's Day.
Custom Jewelry
If you're looking for something a little less handmade, try a personalized necklace from Lisa Leonard Designs or an Origami Owl Living Locket. Both of these companies offer high quality products that exude personality and style. For something perfect for grandmas, check out the Lisa Leonard Jumble of Love necklace. We gave one to my mother-in-law with the all the grandkids' names on it, and she loves it. As far as I know, she wears it all the time. Plus it looks beautiful on her.
My sisters and I all have some version of an Origami Owl Living Locket, and they're so much fun. I wear mine all the time – it's a necklace – and I always get compliments. My sisters, who wear name badges for work, got the lanyard styles, and they dress up a boring name badge like nothing else. Personalize them with your favorite charms to represent your mom recipient's personality, or choose the special Mother's Day designs featured in the above link.
Wrapping It Up
With a little more than a week until Mother's Day, now is the perfect time to get moving on shopping for the right gift. Or … just order what you would love, wrap it up and put it on the brunch table for yourself. After all, mama, you deserve it!
Read More