Restaurant Review: FnB Scottsdale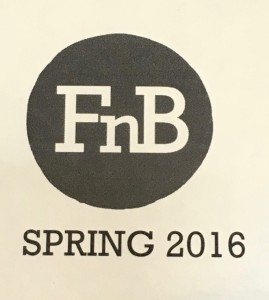 In case you don't know, I live in lovely Tucson, Arizona and life keeps me busy enough that it's a rare treat to get to enjoy a fabulous meal at a hip restaurant. But my sister came to town! Well, not exactly to town, but she came to Arizona, so I made the 2 hour drive up to Phoenix to have dinner with her. Boy am I glad I did!
Her meeting was in Scottsdale, the trendy, upscale suburb of our beloved state capitol, and we didn't have much time, so we wanted to eat somewhere close to her hotel. My 7-year-old was with us, so I was looking forward to a low-key, family-friendly, average-weeknight meal. But I told my sister that if she had the chance to eat at FnB while she was here, she should definitely do it. My friends and I had experienced one of the best meals of our lives there last summer, and I knew it would be right up her alley.
As we started walking around looking for a restaurant, we stumbled across FnB's front door. Literally. Not knowing my way around too well, we just started walking, and there it was. My sister stopped to check out the menu while my son threw coins in the fountain nearby. She was hooked.
Let me say this upfront. I do NOT recommend this restaurant for the average 7-year-old. The food is sophisticated and a bit mysterious even for adults. But Mary, the host/restauranteur/manger/whatever she was, was wonderful! She picked up my sister's vibe that she was interested and she catered to our every need. It just so happened that the restaurant had hosted a local philanthropic group meeting the night before, and they happened to have some yummy macaroni and cheese in the refrigerator. It wasn't on the menu, but it was available to make my kid happy, and it turned two reluctant diners into enthusiastic patrons that night.
The menu here is intriguing and fun and a little bit confusing, but if you put your trust in the amazing chef at FnB, you won't be sorry. The food is made with the freshest ingredients, most locally sourced, in combinations you didn't even know were possible. But it works. And it works well.
The best way to eat here is to order a lot of different things and share them. That way, everyone can taste everything and nobody will go home missing out on the spectacular culinary experience that this establishment provides.
We started with the sweet pea falafel with Meyer lemon tahini and mint and the sumac roasted tomatoes with i'itoi onion quark and dukka. I have absolutely no idea what most of that is, but I know that it was absolutely delicious. The falafel didn't look overly impressive, but once in your mouth, it bursted with flavor. Delicate and complex and utterly divine.
The roasted tomatoes came with grilled bread and were nestled in a cushion of soft, rich goat cheese. The best way to eat these was to scoop up a portion of tomato & cheese, making sure to keep the spice and onion mixture on top intact, and put it on a piece of bread to eat it like a bruschetta. The result is best described as a happy explosion of flavor in your mouth. Roasting the tomatoes with the sumac brings out a smoky richness that you wouldn't otherwise get. The goat cheese provides a creamy coolness that balances the tomatoes beautifully. Put it all together, and you'll wonder why you never thought of this at home. Although I don't know if you could create this at home. You'll have to come back to FnB.
Next came the heirloom cauliflower adobo with spring onion vinegar salsa and the California black bass with green beans, jicama, chermoula and spring dug turnips. I love cauliflower, and this dish made me love it even more. The tender florets were cooked to perfection in adobo with a savory, tart salsa on top. Again, the flavor combination in this one dish were nothing short of amazing. It was bright and fresh and at the same time rich and complex. I couldn't get enough.
The fish came with much more than green beans, jicama and turnips. It was layered with juicy grapefruit and orange wedges, turnip and/or radish sprouts and the perfect blend of seasonings. Each bite brought a different taste of elegant flavors, and it was hearty and satisfying without being heavy or overdone.
Finally, we ordered the board of super fresh ricotta, drizzled with honey alongside a dried fruit marmalade, grilled nut bread, fruit and nuts. Our thought was we could have a few bites of these sweet morsels and skip dessert, but we couldn't wait until the end to enjoy this array of treats. Again, the ricotta was best served spread on the nut bread and topped with the marmalade. The marmalade was slightly spicy which complemented the sweet, rich ricotta nicely. I added a few of the spiced nuts on top as well, and it was fabulous. My son was happy to eat the apples, and I wasn't about to complain about him eating fruit, so we made the sacrifice and let him enjoy them.
We were happily stuffed by the time we finished, and there were leftovers of everything except the falafel. The food is just as good as leftovers as it is fresh, and trust me when I say I thoroughly enjoyed this meal for days!
My sister loved FnB so much that she returned a few days later, at the end of her stay in Arizona. She was happy to report that the lamb riblets with sherry vinegar, honey, aleppo, coriander and wheatberries were so tender they melted in her mouth, and she enjoyed a fresh made panna cotta and grapefruit cake for dessert.
If you find yourself in Scottsdale, AZ for any reason, don't hesitate to enjoy a meal at FnB. Make a reservation, bring your friends, and make it a shared adventure! Your tastebuds will come alive in ways you can only imagine, and it will be a truly memorable dining experience.
(**Note: I wish the photos had come out a little better, but the lighting in the restaurant wasn't ideal. While these may not make you want to lick your screen, I hope you can see at least a smidgen of the goodness!**)
Have you enjoyed a meal at FnB? What did YOU think of it?