Dinner Under 30 – Easy Salmon & Couscous
Every week, our house seems to get busier and busier. Between swim practice, soccer practice, Girl Scouts, gymnastics and music lessons, sometimes it's hard to know who's coming and going much less what's for dinner. In this new series, Dinner Under 30, I'll share some delicious meals that you can have on your table in 30 minutes or less.
Keep in mind, I'm not an expert. In fact, I struggle every day with shopping, planning and making tasty, healthy meals that my family will actually eat. Our weeknights are cram-packed with activities, but we have a commitment to eat dinner together unless it's absolutely impossible to do so.
Plan Ahead, Keep it Simple & Be Creative
The key to successful, quick dinner is to plan ahead. If you can, take a look at your recipes before you go shopping and make sure you have what you need. Of course, if  you're human, like me, there will always be something you forget or that you thought you had but you don't.
That's where keeping it simple comes in. The simpler the recipe, the easier it is to substitute ingredients if necessary. Something in your pantry might work in place of something you forgot, like a can of diced tomatoes might work if you forgot to put the fresh tomatoes in the basket.
And don't be afraid to improvise! Being creative in the kitchen can be fun, and sometimes you'll come out with something better than what you planned in the first place. My friend, Beth, has elevated this to an art form in her blog, One Missing Ingredient, where she tells a great story, then chronicles her successful substitutions and the delicious outcomes. (Go visit her; you won't be sorry!)
Poached Salmon with Cucumber Dill Sauce and Couscous
So, enough of the background. It's time to eat! And this recipe is one of my favorite quick and easy meals. It's healthy, filling, tastes great and looks pretty on a plate.
Wild caught salmon stars in this dish, and while you can get it already cut into individual portions, I find that a big filet is easier to find (and a little cheaper, too). I just cut it up before I serve it, and nobody knows the difference.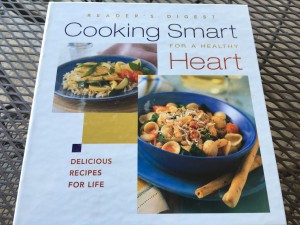 I've had the recipe for years. It's from a monthly recipe card series I got from Reader's Digest called Cooking Smart for a Healthy Heart. Each month, when the cards arrived in the mail, I would faithfully put the recipe cards into the binder they gave me until I accumulated a whole cookbook. I've used a bunch of these recipes, but this Poached Salmon is one I keep coming back to. The couscous is our side-dish of choice, and it's so simple it doesn't come from any recipe book. Serve it with a simple salad or quick steamed broccoli or green beans and you've got a full meal!
For the couscous:
2 cups couscous (my kids like the Israeli or Pearl couscous, but you could use anything)
Diced, fresh tomatoes
Green onions, thinly sliced
Feta cheese, crumbled
Start the couscous first, and cook according to package directions using chicken broth or vegetable broth instead of water for a richer flavor. This usually takes about 10 minutes to cook. Once cooked, remove from heat and fluff it with a fork. Once cooled, serve with tomatoes, green onions and feta sprinkled over the top.
For the salmon:
1 lb Wild Caught Salmon filets
1 1/2 cups water
1 cup dry white wine or chicken broth (I usually use a combination of both)
2 green onions, sliced
8 black peppercorns (I don't count – I just shake out a small handful)
Using a large nonstick skillet, pour in the water, then stir in the wine/broth, green onions and peppercorns. Place the salmon in the skillet, skin down (if it has skin), in a single layer. Bring to a boil over high heat. Reduce heat to medium low, cover and simmer for 5-8 minutes, until fish flakes with a fork.
For the sauce:
3/4 cup Greek yogurt or sour cream (these are both great, but I prefer the yogurt)
1/3 cup finely diced cucumber
2 Tbs dill
1 Tbs fresh lemon juice (or to taste)
1 tsp salt (or to taste)
While the salmon & couscous cook, stir together the yogurt, cucumber, dill, lemon juice and salt in a small bowl. Set aside until it's time to eat!
Once everything is ready, serve it up! Our kids have different opinions of the sauce and the couscous toppings, so we plate each person's individually and let them spoon the sauce on themselves. But it IS a meal that they all eat, even my picky, fish-hater. And in 30 minutes or less, this is a perfect mid-week meal.
What do you think of Dinner Under 30? Let me know what you think, especially if you try the recipe! What else would you like to see here? Use the comments to send me your thoughts, ideas and questions. Thanks!